Philadelphia school sees significant increase in student reading growth
Six Months After Adopting New ELA Curriclum
The Challenge
At the start of the 2016–17 school year, the teachers and school leaders at James R. Lowell Elementary School set a major goal: each student would be reading at grade level by the end of Grade 3. The school in North Philadelphia has more than 800 students, many of whom receive free and reduced-price lunch. School leaders knew that to achieve a different outcome for their students and reach their goal, they needed a literacy curriculum that would spark more student engagement.
The Results
By January, the percentage of students reading on grade level increased 16 points since September 2016. This midterm growth is almost double the school's end-of-year goal of 9 point growth.
School leaders and teachers attribute the adoption of Wit & Wisdom—a new, K–8 English curriculum—as a major contributing factor to the increase in student achievement. Reflecting on the initial decision to select Wit & Wisdom, Principal David Lugo shares that he didn't want another curriculum that would "sit on a shelf and gather dust." Lugo was drawn to Wit & Wisdom for its rigor, calling it an "invaluable" tool for raising expectations for teaching and learning.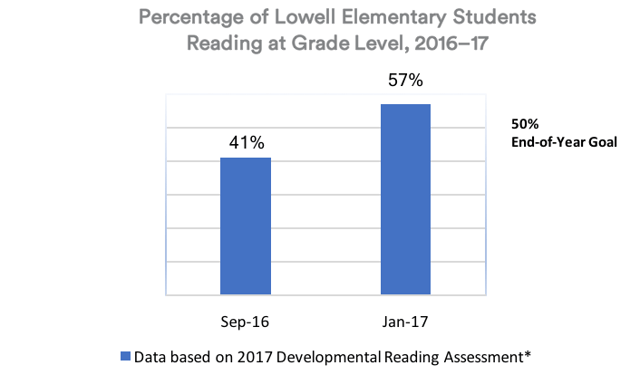 This type of growth, however, doesn't happen solely by adopting a new curriculum. Strategic decision-making, hard work, and collaboration have proven to be the hallmarks of Lowell's successful implementation of Wit & Wisdom. When Lugo learned about the curriculum, he invited the Great Minds team to present to Lowell's teachers. He knew that honoring teacher voices in this decision-making process was crucial to future implementation success.
"This is what I would create if I had the time in my day to sit down and write beautiful literacy lessons, based on actual books," explains Caitlin McGregor, a literacy coach at Lowell. "It is a flawless way to bring in books and best practices, while encouraging an ongoing dialogue between teachers and a curriculum."
A New Approach to Literacy
McGregor was not alone in her excitement about a curriculum designed around engaging, grade-level texts. Teachers quickly noticed the quality, richness, and relevance of the texts.
Students noticed something different, but just as important. They had brand-new books in their hands, and everyone in the classroom, regardless of reading level, was reading the same text from start to finish.
The way students approached these new books changed, too. Instead of reading through a text—quickly determining what was happening in the story and then moving on—students were taught to appreciate the beauty of a text by slowing down. McGregor states, "When we start a new book now, we ask kids what they notice and wonder about the book. Just the idea that you're going to get a book and all that's being asked at first is to enjoy the story … is great." McGregor notes that Wit & Wisdom then pushes students to discover the deeper meaning behind what they read by reading the same text multiple times.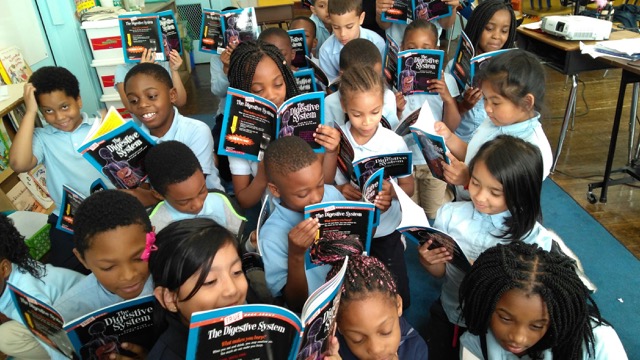 Lugo cites that student engagement has increased substantially since implementing Wit & Wisdom. "The level of engagement among students is so much higher. Students are turning and talking about the content in meaningful ways," he says. "We're getting away from teacher-led instruction. In many instances, the students are posing their own questions and sparking a dialogue with each other."
"This had us all stepping outside our comfort zone. But it was really rewarding to see it work," explains McGregor. "I was hearing things from teachers like, 'I can't believe they were asking and answering those questions,' and 'You should hear what they had to say.'"